We feel this frustration in our food system too. That's why we built Open Farms – to come together on common ground where Kiwis feel safe to ask questions, be respectfully heard and learn about the facts of food production, right at the source.
It's ok for us to disagree, but we can't lose sight of the fact that – growers or customers, town or country – we need each other.
While international research (like Open Farm Sunday in the UK) suggests that less than 2% of farmer hosts will have an unreasonable or disruptive visitor, it's important to prepare to have frank, honest conversations when it comes to a passionate topic like food production.
The CARS approach
In the Open Farms Host Handbook and in this video, we cover and provide examples of the CARS approach – a good way to structure your response to challenging and emotional issues. In brief,  it's about expressing Concern and genuinely listening, telling people what Action you take on-farm, the Reasons why you take that action and then focusing on Shared Values and the things you agree on.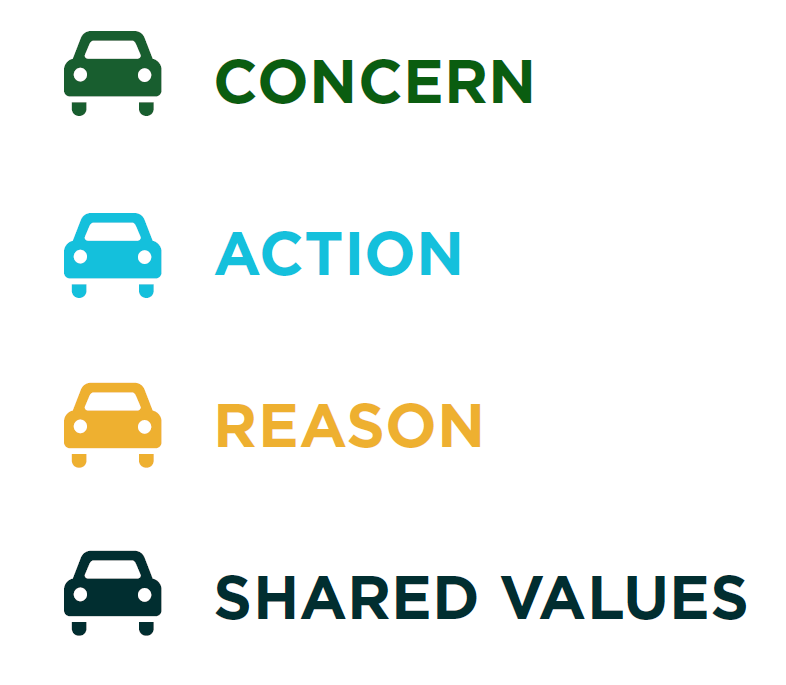 Tips for honest conversations
Set the tone. Be polite, confident and respectful that other people's opinions are valid too. Don't be defensive, argumentative or take things too personally.
Credit where its due. It takes guts to voice an unpopular opinion – the timing or delivery might not always be appropriate, but honest conversations are seldom easy.
Offer to talk individually. Keep the interests of the majority of the group in mind and offer to speak with the visitor individually after the session. You could also ask a qualified helper to talk through the issue with the visitor to allow the group to continue.
Have a tour plan. Knowing what's next will help you move things on and you may be able to use upcoming stands or activities to illustrate your point.
Agree to disagree. It's okay to not reach an agreement. Show concern, make your case, thank them for their input and politely close the matter.
Use the Open Farms Code of Conduct. Everyone – hosts and visitors – has agreed to this as part of their registration. If you feel a visitor is not respecting this, remind them why you're hosting the event.
Dealing with unacceptable behaviour
If a visitor is being disruptive or is behaving in a way that is unacceptable, unsafe or in breach of reasonable instructions, you are entitled to issue a verbal trespass notice and instruct them to leave your property.
If this is the case, the police advise that you record the date, time, reason for giving a verbal trespass notice, name/description of the person and details of their vehicle.
If they refuse, call the police (dial 111) and inform them of the situation.
Dealing with protestors
At Open Farms, we believe that everyone has a role to play in our food system. That's why we work with all types of farms and encourage every Kiwi to get out there and participate firsthand in the food and farming systems that matter to them.
We will always work to avoid any protest activity on-the-day, but remind our hosts that:
Protestors are permitted in public areas such as public roads or footpaths, but require your permission to be on private property.
It is your decision to engage with protestors. If you choose to do so, avoid any confrontation or argument and practice the CARS principles (show Concern, describe the Actions you take on farm, tell people the Reason for those actions and look for Shared Values – we cover the CARS principles in detail in the Open Farms Host Handbook).
Assume any interactions are being filmed.
If anyone is causing distress to you, your family, volunteers or visitors, call the police.